---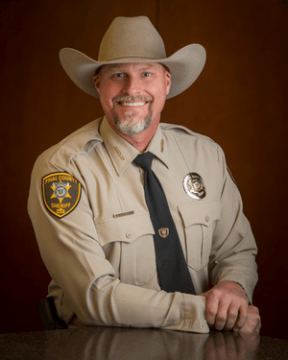 Biography
---
Mark Lamb was elected as the 24th Sheriff of Pinal County on January 1st, 2017. Sheriff Lamb oversees a county the size of Connecticut and manages nearly 500 employees within the department.

CAREER
Sheriff Mark Lamb has both experience in law enforcement and the private sector. He trained with the Maricopa County Sheriff's Office Deputy Academy and was named Valedictorian of his class. He was hired by the Salt River Pima-Maricopa Indian Community, where he excelled as a police officer and was named Rookie of the Year. The following year, he received the Officer of the Year award. He was later promoted as a Detective to the Gang Enforcement Unit and in his first year was named Detective of the Year.

The quality of Mark's work was rewarded by his involvement in a wide variety of law enforcement actions. Mark has participated in DUI task force details and gang suppression, and he has investigated multiple drive-by shootings, drug cases, assault, and aggravated assault cases, and homicides. Mark has also worked Federal cases, State cases, and Tribal cases. He later joined the Pinal County Sheriff's Office as a deputy to better serve his community.

BACKGROUND
His varied background was on full display when Mark was named one of the lead detectives on a multi-agency (Salt River PD, Mesa PD, DPS, ATF, US Marshal Service and the FBI) Federal RICO case that disrupted and dismantled one of the most violent gangs in the East Valley. As a result of this successful case, Mark received the Award of Excellence from the Arizona Gang Investigators Association.

POLITICAL IDEALS
As a constitutional conservative, Mark has strong convictions and is courageous in fighting for the citizens he serves. Mark believes strongly in our Republic and our Constitution, he is a strong supporter of our 2nd Amendment rights and the enforcement of all of our laws, including those that pertain to fighting illegal immigration, and he is determined to protect the rights and freedoms of the people whom he serves.